We're all in(side) this together
Who could have predicted this? I'm cooking more, like everyone else I know.I've stopped taking photos of food that I pick up or make. My Instagram account has gone dormant. Not sure why. And I've found treasures in the back of my freezer: a bag of Parmesan rinds, pork sausage from Johnson's Boucaniere in Lafayette, blood sausage from Piece of Meat. How's your social distancing going?
---
Where to Eat Now (a look back)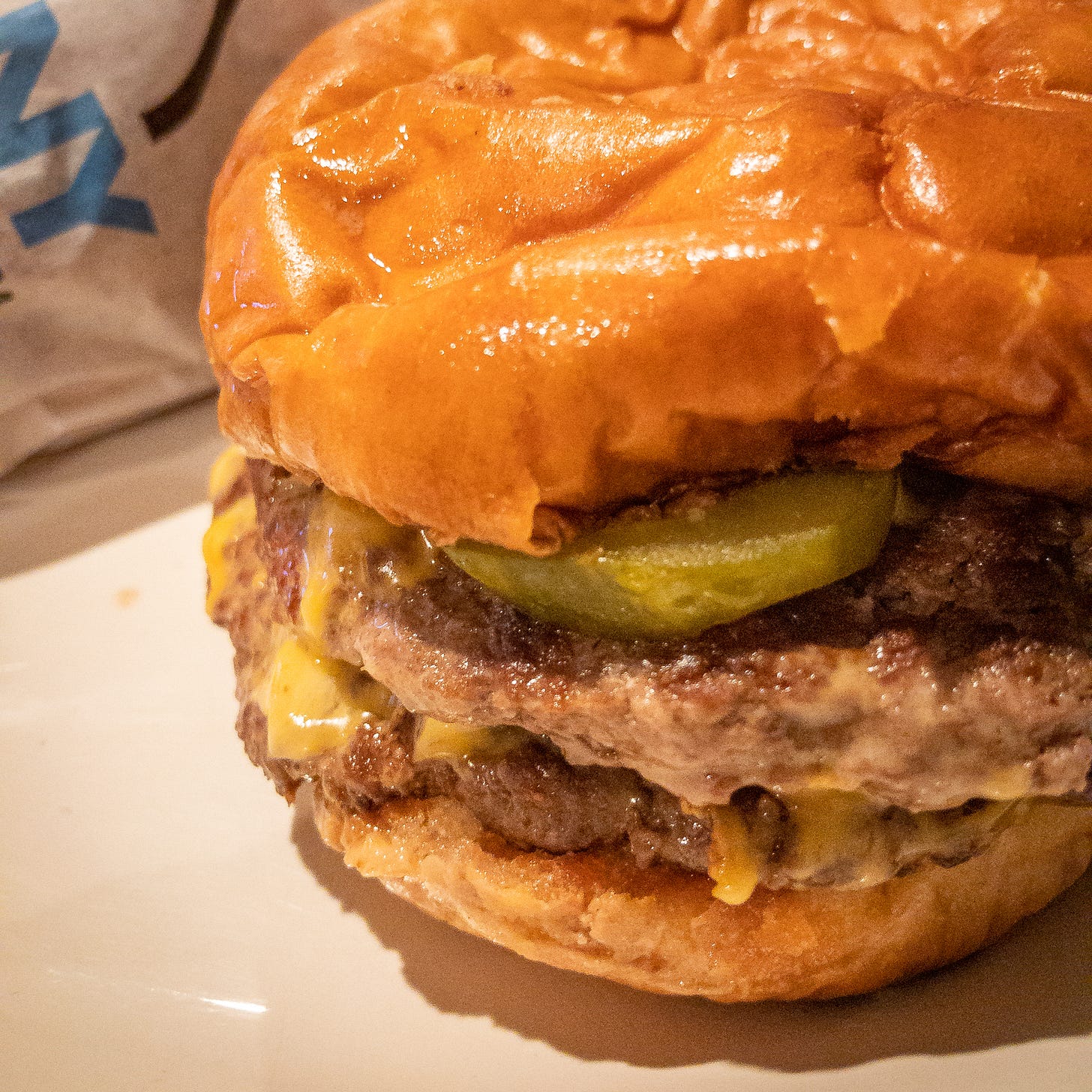 Friday, March 13: Company Burger
We had already spent two weeks strictly isolated at home, because I got sick (the flu, not the coronavirus) after we went to Italy for Mardi Gars. Our kids were ready to go back to school. I was tired of turkey sandwiches. When news leaked out that the schools were closing for a month, we were deflated. After two weeks, I figured that I was no longer a danger to the city, so I went out to pick up dinner. On a Friday night, the Company Burger downtown was empty. The bartender was sitting at the bar eating. When the guy at the counter took my credit card, he made sure not to touch my hands. I wondered if I should be out. It made me uneasy that the restaurant still had its condiment bar open.
611 O'Keefe Ave., New Orleans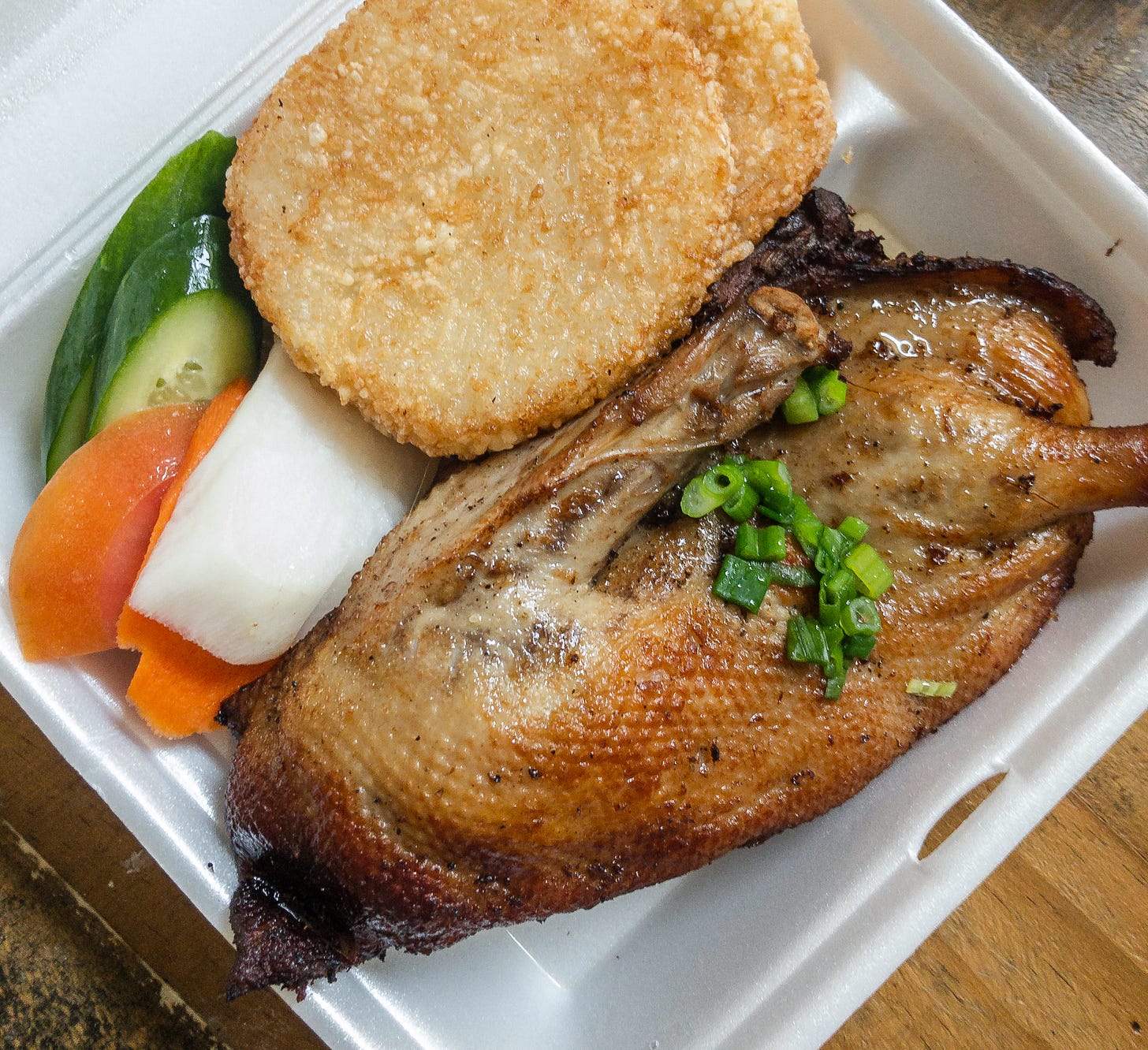 Sunday, March 15: Tan Dinh
We all wanted duck. For us, that means a trip to Tan Dinh. I called in our order and headed to the West Bank. Usually, the dining room of Tan Dinh is packed with families on the weekend. Today, only one table was taken. The owner told me he would probably switch to takeout-only the next day. It didn't make sense to keep the dining room open. By the end of the day, the governor would make that decision for the state.
1705 Lafayette St., Gretna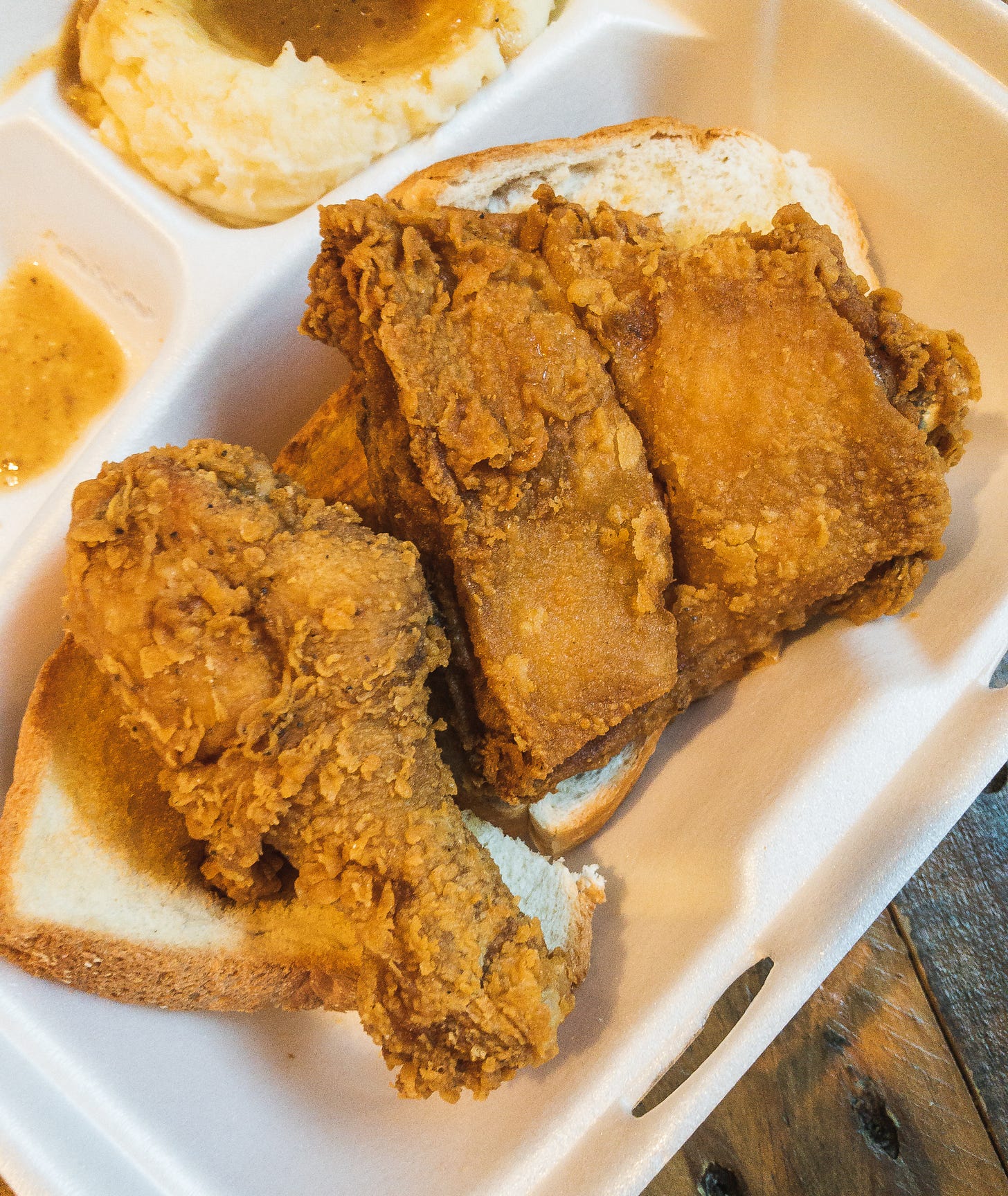 Monday, March 16: The Original Fiorellas' Cafe
After a frenzied trip to the grocery store, I had plenty of food to cook. But I wasn't in the mood. So we decided to get fried chicken. It doesn't get better than Fiorella's in Gentilly. I called ahead, but I still had to wait a few minutes. Watching the customers come in, it hit me how many people in this city aren't healthy. This virus, I worried, will be devastating in New Orleans. Kelly Fiorella, one of the owners, said he was hopeful they could make it because 75% of their businesses has always been take-out.
5325 Franklin Ave., New Orleans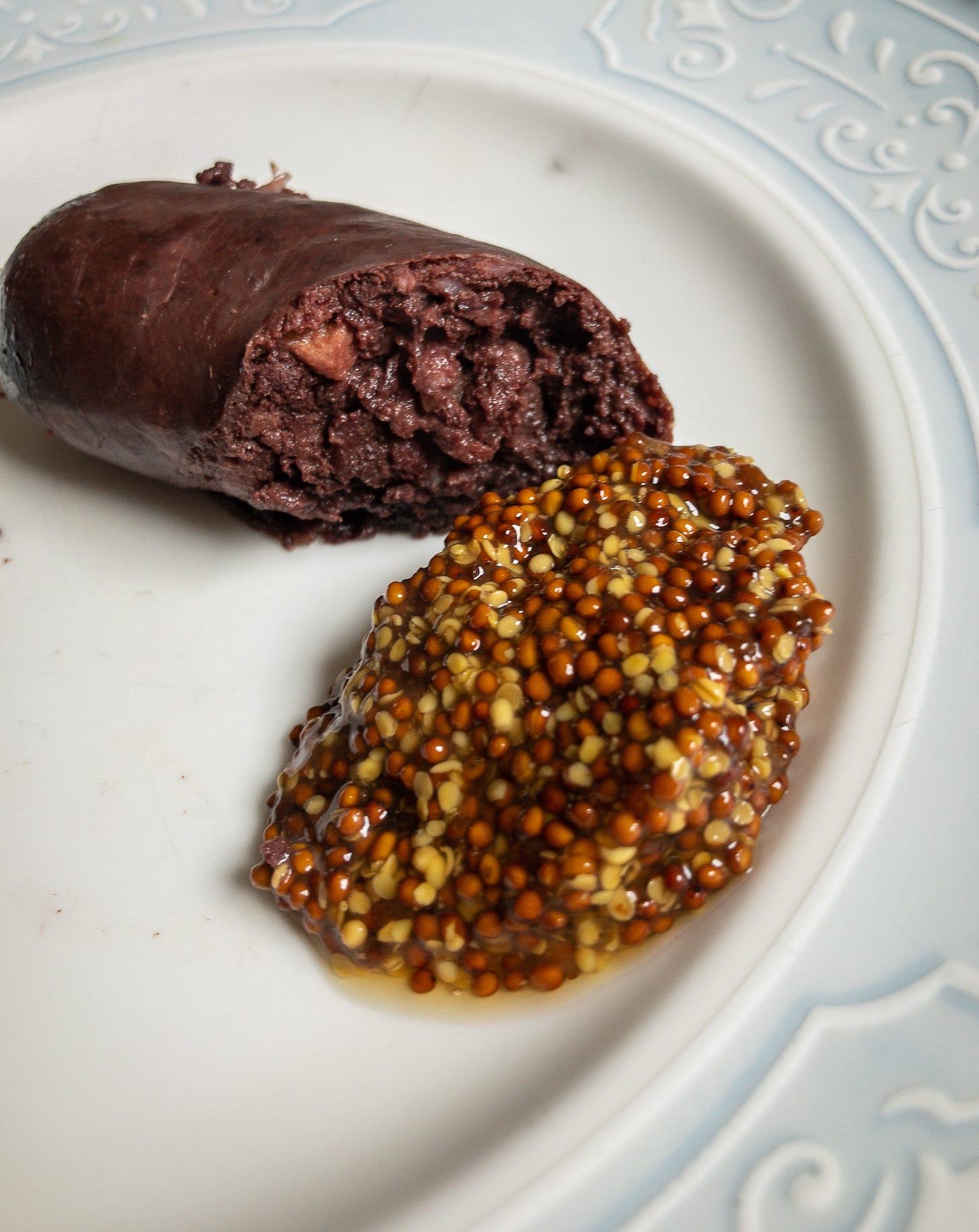 Sunday, March 22: At home
I dug through the freezer and cooked all day. I made beef stock. I found Parmesan rinds for stock, which then went into white beans with tasso. A pack of goat meat was ground and used in chili. I found a pound of blood sausage from Piece of Meat that I'd forgotten. And I learned that no one else in my family eats blood sausage, so more links for me.
New Orleans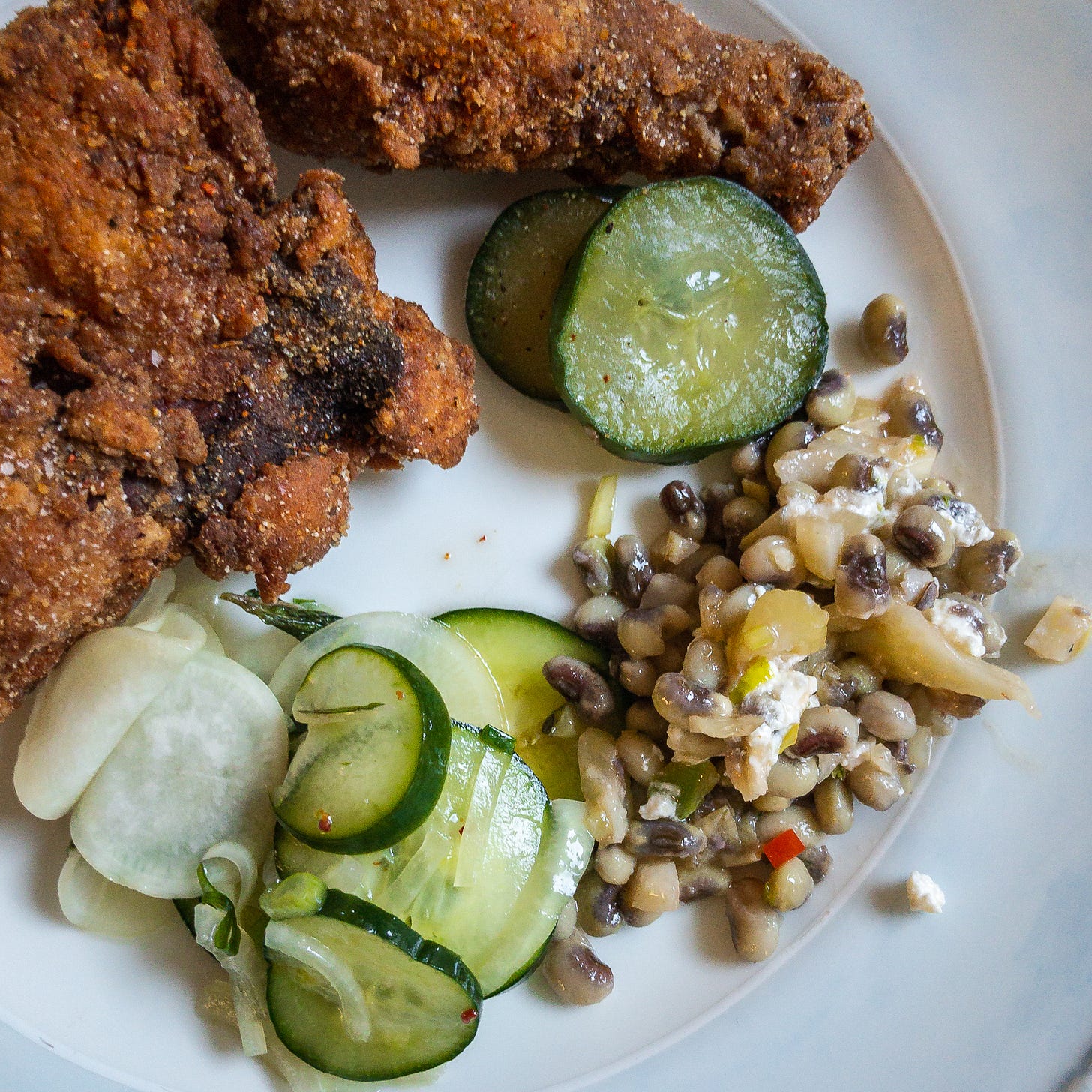 Tuesday, March 24: Coquette
The finest fine dining restaurant in town is now selling mainly fried chicken. And it's delicious. Fried dark. Crispy outside. Moist inside. The restaurant has instituted new ordering procedures. You had to pay in advance. Chairs were set out 6 feet apart. When your order was ready, an employee put it on the table, stepped away, and called your name to pick it up.
2800 Magazine St., New Orleans
I have kept ordering take-out, but I'm not sure that I should. I want these restaurants to survive. And I know the employees need the jobs. But can it be safe? Should the restaurants take the risk? Am I encouraging behavior that puts people in danger? I don't know.
---
Hot Links
---
This time next year
I'm writing this on Thursday before Easter. Holy Thursday. If restaurants were open, I'd be at Dooky Chase's eating green gumbo and fried chicken. Leah Chase, equal parts culinary super star and sharp-tongued saint, would always preside over this meal that felt like an annual family reunion for the city. Last year, she was too sick to attend. She died a few months later. This would have been the first Holy Thursday without her.
Years ago, I somehow wrangled a standing invitation to the table of John Pope, the obituary writer that I used to work with at The Times-Picayune. It was an illustrious cast of dining companions, and I felt honored to be included. Pope would reserve his table a year in advance, making sure he had it secured for the coming year before he left the restaurant each Holy Thursday. I made sure, the moment Pope extended an invitation, that I accepted. And in years I had to skip, I apologized profusely.
I hope you made your reservation for 2021, Pope. Count me in.
The Food Krewe newsletter goes out the first week of each month (except when I'm late)
Feed the Krewe!
The newsletter is free, but it costs money to make (meals, camera equipment and more). Become a monthly patron. Even a buck a month would be awesome.